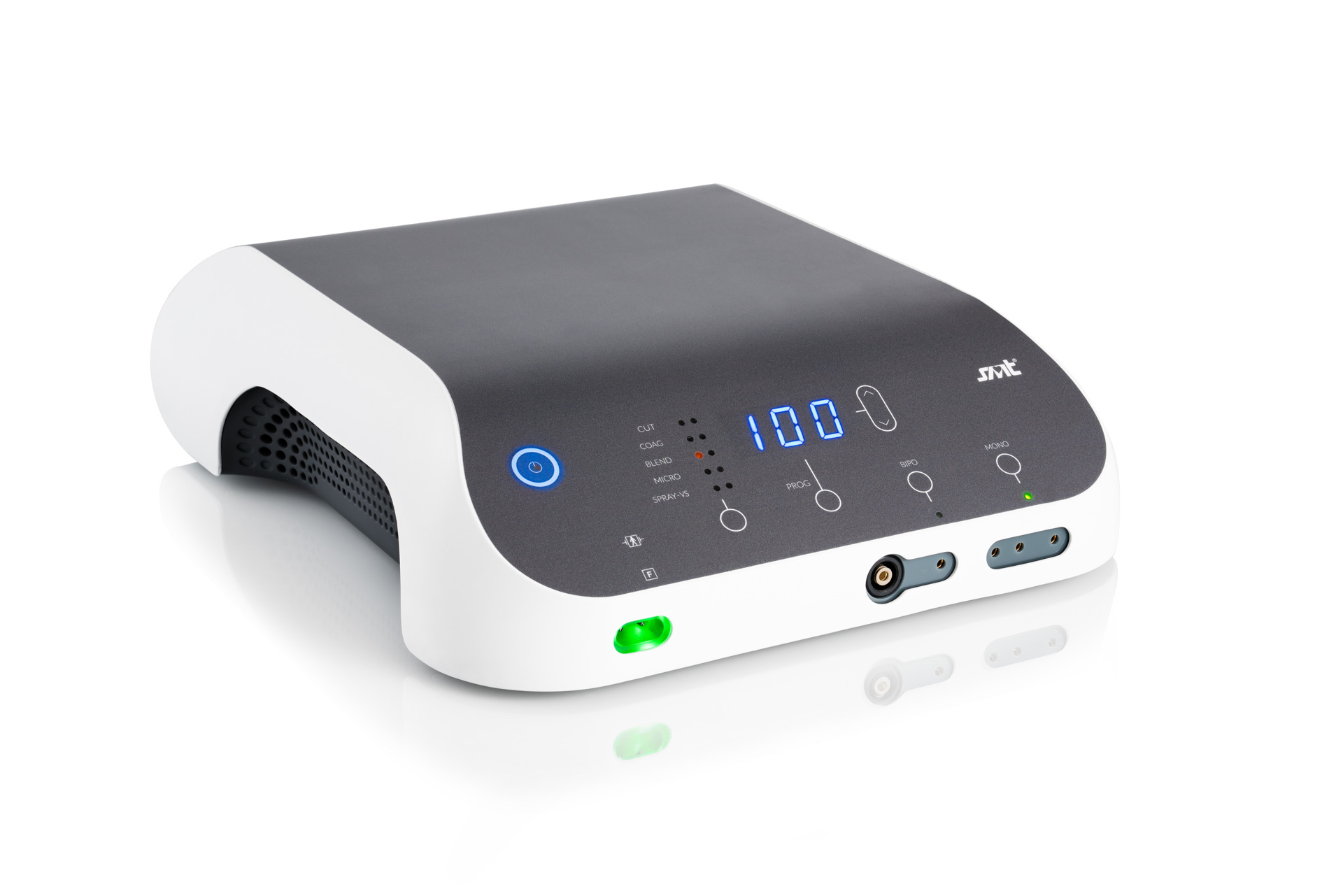 SMT BMM PF is modern and reliable electrosurgical unit, designed and manufactured in Czech Republic
Easy to operate and reliable device with compact and ergonomic design. Maximum power of 400W and variety of output modes cover wide range of surgical procedures.
Featues
– compatibility with wide range of instruments
– bipolar saline resection mode SAL
– automatic bipolar SEAL mode
– easy switching between monopolar and bipolar mode using footswitch or handpiece
– heavy duty pneumatic footswitches
– low weight, compact design allowing easy cleaning
– efficient cooling system allowing long operation on high power
– power response on different types of tissue
– 12 programmable user settings
– microprocessor controlled
– continous neutral plate monitoring and connector LED indicator
– favourable warranty and service conditions
General and output parameters
Supply voltage – 230 V / 50 Hz
Dimensions – 351 x 387 x 103 mm (w x l x h)
Weight – 6,7 kg
Appliance class – II
Max. output power – 400 W
Max output power device variants – 150W, 200W, 260W, 300W, 360W a 400W
Output frequency – 460 kHz

Standard accessories
1 power cord
2 cut/coag handpiece
3 bipolar forceps
4 neutral electrode cord
5 doublefootswitch
6 single footswitch
7 silicone neutral electrode
8 six monopolar instruments selectable by the customer
All standard accessories is reusable, set can be modified on request.
Additional accessories
Mini-invasive surgery instruments
– reusable instruments for laparoscopic surgery, compatible with SEAL mode (with disposable blades)
– reusable active and passive resectoscope, compatible with SAL mode (with disposable loops, shrooms etc.)

Cart
– 4 lockable antistatic castors
– single shelf (standard)
– single column construction and simple shapes allow easy cleaning
– can be additionally assembled with a basket