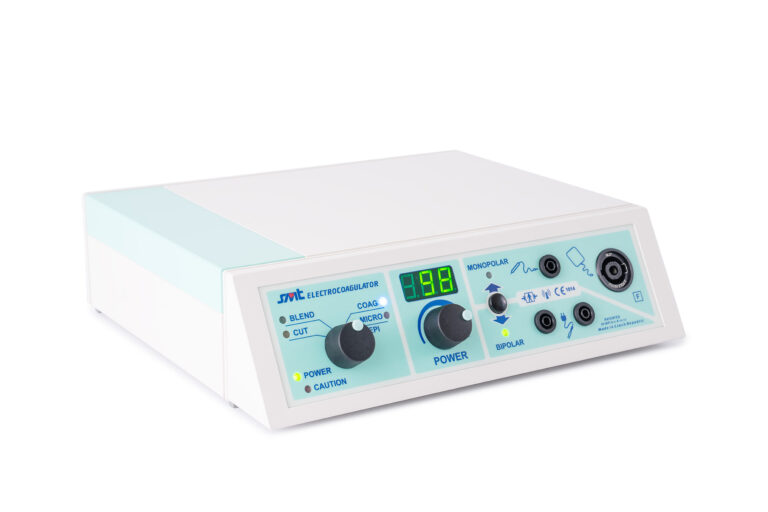 SMT BM is analog electrosurgical unit, designed and manufactured in czech republic.
a tiny reliable device which meets all the requirements for smaller surgery procedures. The controll is very simple and intuitive, power is set by rotation knob and displayed on LED screen. These units work in 4 operation modes (cut, blend, coag an micro) on both monopolar and bipolar output.
Available in four power variants 75W, 100W, 125W and 170W, with all necesarry accesorries included.
Features
– monopolar and bipolar output
– digital display of current power setting
– simple controll, reliable and safe operation
– basic output modes, cut, blend, coag a micro coagulation
– heavy duty pneumatic pedal
– reusable accessories and instruments included (instruments are selected by the customer)
– favourable warranty and service conditions
General and output parameters:
Supply voltage – 230 V / 50 Hz
Output frequency  – 460 kHz
Dimensions – 290x250x80mm
Weight – 3,5 kg
Appliance class – II
Certificates:
–  NV 54/2015 Sb. (93/42/EEC)
– compliance ČSN EN 60601-1, ČSN EN 60601-2-2
– quality management ČSN EN ISO 13485:2016
Power variants:
| | | | | |
| --- | --- | --- | --- | --- |
|   | SMT BM 75 | SMT BM 100 | SMT BM 125 | SMT BM 170 |
| max. power: | 75W | 100W | 125W | 170W |
Basic accessories:
All device variants include reusable handpiece, supply cord and pneumatic footswitch. Other included accessories varies by the type:
| | | | | |
| --- | --- | --- | --- | --- |
| | SMT BM 75 | SMT BM 100 | SMT BM 125 | SMT BM 170 |
| Monopolar instruments: * | 1pc | 3pc | 3pc | 3pc |
| Neutral electrode: | steel | steel | steel | silicon + cable |
| Bipolar cable: | no | yes | yes | yes |
| Bipolar forceps: * | no | yes | yes | yes |
* monopolar instruments and bipolar forceps types are selected by the user